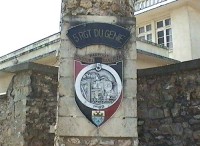 De open dagen van de 5de Genie in Versailles vonden plaats op 9 en 10 juni 2001. Naast oud (normaalspoor-) materieel vond er een door GEMME georganiseerde beurs plaats die met name op het Franse smalspoor was gericht.



The open doors of the 5th Engineers in Versailles (France) took place at june, 9th and 10th 2001. Apart from the old (standard gauge) railroad material, there was a show, organized by GEMME, regarding mainly french narrow gauge.



Klik de foto's aan om ze te vergroten.
Kies TERUG of VORIGE in je browser om terug te gaan.



Click the pictures to enlarge them.
Choose BACK or RETURN in your browser to return.



Home/Acceuil/Volver